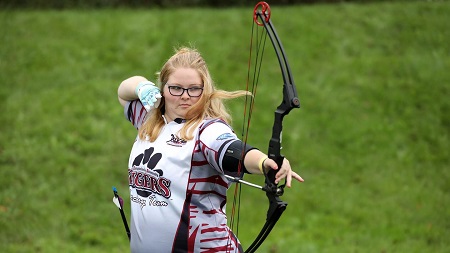 A Grayson County Class of 2018 graduate has won the first individual National Championship in the young history of the Campbellsville University archery team.
Rachel Woosley, a freshman, won the Basic Bow Division Gold Medal in February to claim the title. The medal was won at the United States Intercollegiate Indoor Archery Championships held in Las Vegas.
In the championship, Woosley defeated an archer from Kentucky Christian University by a final score of 1,032-951. The university says that the Grayson County native came from behind in the finals match as she was down 25-21 after the first set before winning three of the last four rounds to win the title.
As a team, Campbellsville finished tied for fifth place while competing against schools from across the nation.
The victory served as the National Championship for the indoor portion of the Tiger Archery season. The team is now preparing for the Outdoor Target Regional Championship that will be held at the University of the Cumberlands on April 17th.
By Sam Gormley, Play-By-Play Announcer/Local Sports
Reach Sam at sam@k105.com
(Headline Photo Provided by Campbellsville University)