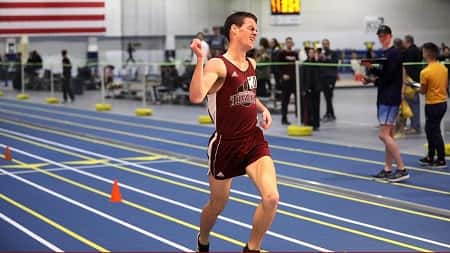 Campbellsville University senior Corbin Harris won the 5000m NCCAA National Championship last month.
Harris, a 2015 GCHS graduate, became the second runner in Campbellsville indoor track history to become a national champion. He won the race with a time of 15:25.48 defeating the second place finisher by more than 17 seconds.
Also at the meet, which was held at Cedarville University, Harris finished in 3rd place in the 3000m with a time 8:58.19.
The honors didn't stop there as Harris, along with teammate and fellow Grayson County alum Bret Crawford, was named to the All-Academic team which honors athletes who have a GPA between 3.0-4.0.
As a team, the Tigers finished in fourth place at the meet. In addition, with the help of Harris and Crawford, Campbellsville was honored as the 2018 NAIA U.S. Track & Field and Cross Country Coaches Association Scholar-Team.
By Sam Gormley, Play-By-Play Announcer/Local Sports
Reach Sam at sam@k105.com
(Headline Photo by Campbellsville University– Brett Pierce)