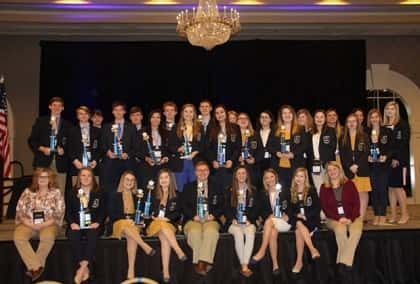 Grayson County High School DECA members exemplified the organization's national theme, "Ready for It," with outstanding State Conference performances.
Nineteen students qualified for Nationals and three will attend the THRIVE academy for emerging leaders. DECA's International Career Development Conference (ICDC) will be held April 27 – 30 in Orlando, Florida.
In competitive events and students who will compete at ICDC include:
First place finishes included Chase Blain and Emma Finch, Community Service Project; Maggie Clark, Hospitality & Tourism Professional Selling; Evan Hayse and Eli Helm, Public Relations Project.
Second place finishers Zoe Coles and Kaylee House, Entrepreneurship Team Decision Making; Dylan Geary, Abby Hayse, and Josie McStoots, Financial Literacy Promotion Project; Maranda Henderson and Sadie Stone, Integrated Marketing Campaign-Service; and Tanner Rivera, Sports and Entertainment Marketing Series.
Third place finishers Peyton Ashley, Bailey Collins, and Emily Cooley, Integrated Marketing Campaign-Event; Sophia Elmore and Allyson VanMeter, Integrated Marketing Campaign; and Chase Minton, Innovation Plan.
Shelby Gary, Tyler Dockery and Madelynn Henning will participate in THRIVE leadership academy.
In addition, Thomas Ross placed 4th in Principles of Marketing. Brianna Adams, Tierra Decker, Tyler Dockery, Jonathan Henning, Madelynn Henning, Alyssa Horn, Mya Marshall, and Lynsie Stone were event finalists
Chapter VP of Membership Emma Finch was elected to serve in that office at the State level during the 2019-20 school year. Delegate Shelby Gary was manager of Finch's successful campaign.
Senior Chase Minton received the Outstanding Chapter Member award.
Advisors Brittany Geary and Sherry Minton were recognized for successes at the 2018 ICDC as well as being the top national fundraising chapter for DECA's signature philanthropy, MDA.
By Grayson County Schools