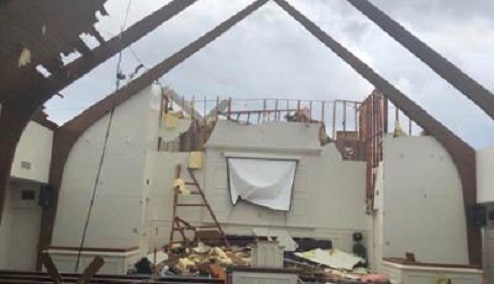 Multiple tornadoes touched down Thursday in western Kentucky.
Kentucky State Police said one person was injured by a tornado that struck West Paducah, in McCracken County. The tornado struck McCracken County at approximately 9:20 Thursday morning, traveling northeast at about 55 miles per hour. State police said dozens of homes were damaged in the area.
The tornado also ripped the roof off Mt. Zion Baptist Church. The church includes a preschool that was in session at the time of the tornado. Forty students were inside the preschool when the tornado struck, but police said no children or preschool workers were injured.
Several businesses in the Paducah area were also hit by the twister, causing roofs to collapse.
McCracken County  Judge-Executive Craig Clymer declared a state of emergency in the county.
In Union County, a tornado was spotted in Morganfield at 10:25 Thursday morning as it traveled northeast to near Sturgis and on toward Henderson County.
There was a High Wind Warning in effect for most of Kentucky, with several areas in central Kentucky experiencing wind damage to trees, power lines, homes, and businesses. In Louisville, wind damaged the facade of a parking garage at Norton Women and Children's Hospital. No injuries were reported.
(Headline photo: The roof ripped off Mt. Zion Baptist Church)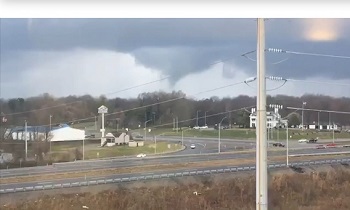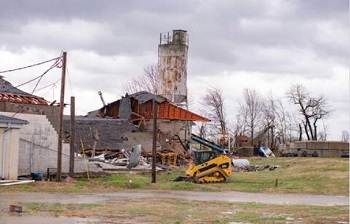 By Ken Howlett, News Director
Contact Ken at ken@k105.com or 270-259-6000