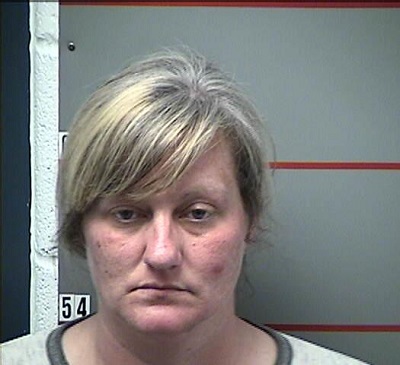 The Grayson County Sheriff's Office arrested one of Grayson County's 10 Most Wanted after receiving a tip on the suspect's location.
At approximately 9:00 Wednesday night, Sgt. Fred Norder and Deputy Mark Newman were informed that 42-year-old Tena Higdon, of Caneyville, was at a business in the Short Creek area. Newman arrived in the area within several minutes but found that Higdon had left.
Newman, though, went to a residence on East Frank Road, between Caneyville and Short Creek, and located Higdon at home, as the deputy could hear the suspect inside the residence.
Norder soon arrived at the residence and he, along with Newman, attempted to make contact with Higdon but she refused to answer the door. Having probable cause to forcibly enter the home, police kicked-in the door of the residence and found Higdon, trying to not be seen through a window, crouched on the ground in front of a couch.
She was arrested without incident. She was served with four warrants, two out of Grayson County (for methamphetamine and marijuana charges) and two out of Ohio County, and lodged in the Grayson County Detention Center.
Higdon was placed on the recently released, updated Grayson County's Most Wanted list, as authorities have been searching for her since June 2018.
By Ken Howlett, News Director
Contact Ken at ken@k105.com or 270-259-6000