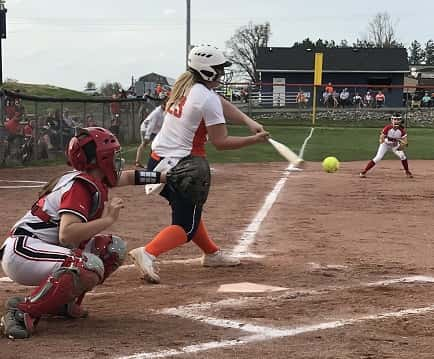 The Hancock County Hornets came to the Grayson County Softball Complex on Thursday and handed the Lady Cougars a 5-2 loss.
Claire Westerfield, the winning pitcher, was in control throughout the game. Three of the Lady Cougar's six hits were of the infield variety. Westerfield walked no one and struck out three on the day.
Grayson County's Embry Thorpe absorbed the loss after giving up five runs, only one of them earned, in her seven innings of work. Thorpe also walked no one and struck out two.
The Hornets scored all they would need in the first inning.  Leadoff batter Hallie Singleton reached on an error, and went to third on a single by center-fielder Braley Roberts, who reached second base on the throw from the outfield.
First-baseman Jayda Garrison hit a ground ball to Cougar shortstop Mikayla Clark, who made a throw home that cut down Singleton trying to score. Ella Staples lined out to right for the second out of the inning, bringing up right-fielder Haley McFarling.
With two strikes on McFarling, Thorpe seemed to have her struck out on a pitch on the inside corner, but the home plate umpire ruled it a ball. McFarling fouled off a pitch, but then got hold of a Thorpe pitch and sent it rocketing out of the park in left for a three-run home run.
The Cougars got one of those runs back in the third inning. Kenzie Renfrow beat out an infield hit and moved to third on another infield hit by designated player Chandra Wilcuts. When Wilcuts stole second base, Renfrow was able to score on the play at second.
The Hornets added two runs in the top of the fourth. Staples led off with a single to left, and when left-fielder Annie Kiper allowed the ball to get through her and roll to the fence, Staples wound up on third. McFarling then knocked in her fourth run of the day with a double into the gap in right-center.
Shortstop Shelby Harpenau moved McFarling to third with a ground out before Westerfield brought her home with a sacrifice fly to right field.
The Cougars added another run in the bottom of the fifth. Renfrow led off the inning with a double to left-center, stole third, then scored on a single by Wilcuts.
That was it for the Cougars as Westerfield retired the last eight batters she faced.
The Hornets moved to a 3rd Region best record of 13-2 with the win, while the Cougars fell to 3-10 on the season.
By Don Brown, Local Sports
Reach Don at donbrown@k105.com