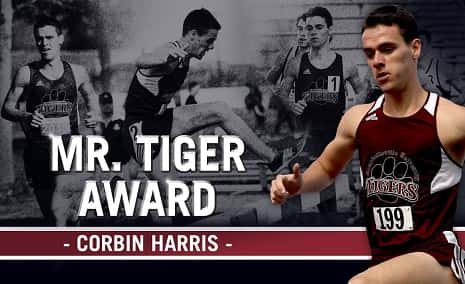 A former Grayson County High School track star has been honored with multiple awards at Campbellsville University Athletic Department's Awards Night. The event, held Thursday night at Powell Athletic Center on the campus of Campbellsville U, was the first time the school has hosted a season-ending awards ceremony.
Bestowed with three honors at the gala event was senior Corbin Harris, a 2015 graduate of Grayson County High School. Harris, who won the 5000m NCCAA National Championship in February, was presented the Campbellsville University Mr. Tiger Award, the Alumni Association Scholar-Athlete of the Year award and the Don Bishop Champion of Character award.
At the national championship track meet, Harris became the second runner in Campbellsville indoor track history to become a national champion. He won the race with a time of 15:25.48 defeating the second place finisher by more than 17 seconds.
Harris came in third place in the 3000m with a time 8:58.19. Harris was also named to the All-Academic team at the national championship event. That honor is given to student-athletes who boast a GPA between 3.0 and 4.0.
By Ken Howlett, News Director
Contact Ken at ken@k105.com or 270-259-6000