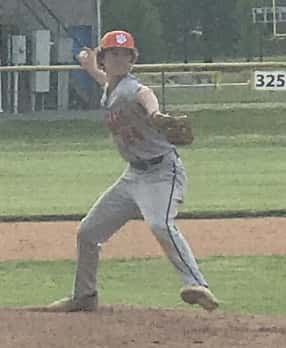 Dane Hawkins pitched seven strong innings Thursday in Greenville as the Cougars beat Muhlenberg County 6-3, their sixth win in a row.
Hawkins scattered eight hits and gave up just a single earned run. He walked no one and struck out two.
Lefty Isaac Rose was the losing pitcher, though he gave up just one earned run. Rose went 5 1/3 innings, giving up just seven hits but walking six Cougar batters. Matt Jackson relieved Rose with one out in the sixth inning and gave up just one hit, a single to Damon Simon that drove in the Cougars' last run.
The Cougars got on the board first with a run in the second inning. Hawkins led off with a single and was safe at second when Andrew Haycraft's sacrifice bunt was fielded by third baseman Carson McKinney and thrown into centerfield.
Gavin Childress followed with a sacrifice attempt that was popped in front of the plate. Mustang catcher Jakob Greene made a diving attempt at a catch, but could not come up with the ball. But because Hawkins had to hold up to see if the ball would be caught, Rose was able to field the ball and get the putout at third base, leaving runners at first and second.
Kyle Davis followed by hitting a slow roller to second base. Second baseman Matt Jackson got the force at second but the return throw to first was not in time to get Davis. Haycraft never stopped on the play and was able to score all the way from second base to make it 1-0.
The Mustangs tied things at 1-1 with an unearned run in the third inning. Leadoff batter Noah Phillips reached on an error and moved to third base when Nolan Davis' sacrifice bunt was thrown away by Hawkins.
Davis stole second base before Thompson followed by hitting a grounder to third baseman Noah Bullock, who cut down Phillips at the plate. Davis moved to third on the play and scored when first-baseman Drew Travis lofted a sacrifice fly to centerfield.
The Cougars made it 5-1 by scoring four times after two were out in the fifth. Davis walked leading off the inning, but was cut down at second base when Ryan Johnson failed to get a sacrifice bunt down.
Johnson singled up the middle before Bullock lined out for the second out of the inning. Simon reached on an error before Briley Napier walked to load the bases. That brought up Cain Smith, who ripped a 1-2 pitch from Rose into the left-field corner for a bases-clearing double.
Hawkins then beat out an infield hit, and Smith was able to score from second base on the throw to first.
The Mustangs added a run in the fifth on Thompson's sacrifice fly to right to make it 5-2.
The Cougars got that run back in the top of the sixth. Davis walked leading off the inning and moved to second on a Johnson sacrifice. Bullock walked before Simon singled into left to plate Davis to make it 6-2.
The Mustangs scored an unearned run in the bottom of the sixth to make it 6-3. With one out, Rose reached on an error, then stole second base. Hawkins struck out pinch hitter Cole Lewis for the second out, but pinch hitter Bronzyn Healy doubled off the wall in center to plate Rose. Healy was then thrown out trying to stretch his double into a triple to end the inning.
The Mustangs put runners at second and third with two outs in the seventh inning, but Hawkins induced McKinney to ground out to end the game.
With the win, the Cougars improved to 16-13 for the season. They will go for their seventh straight win this afternoon at Hart County (4-16). That game is scheduled to begin at 5:30 p.m.
By Don Brown, Local Sports
Reach Don at donbrown@k105.com.