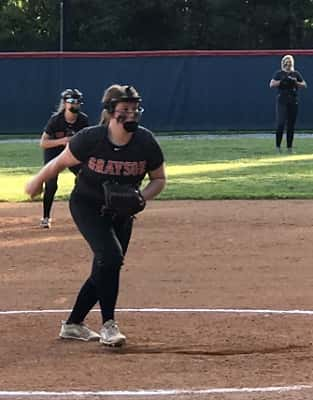 The Lady Cougars softball team traveled to Edmonson County on Tuesday and got shut out, 7-0, their ninth straight loss.
LadyCat hurler, Grace Woodard, scattered five hits, walked one and struck out one in earning the win. The Lady Cougars stranded runners in scoring position in the first, third and fourth innings. Woodard later retired the last seven batters she faced.
The LadyCats scored the only run they would need in the second inning. Karissa Waldrop singled leading off the inning, stole second base, and scored on a single by Rebecca Meredith.
Edmonson County made it 3-0 with a pair of runs in the third. Abbie Slaughter reached on an error and stole second base before Mariena Thomas walked. Shea VanMeter singled to load the bases. Callie Webb then grounded to third and Annie Kiper fielded the ball and threw home for the force out, leaving the bases loaded.
Waldrop followed with a single to drive in a run, and Meredith hit a sacrifice fly to drive in the second run.
The LadyCats made it 5-0 with two runs in the fourth inning. With two outs, Slaughter walked, then scored when Thomas took a 3-2 pitch from Lindsay O'Neal and sent a towering home run to left-center field..
Finally, the LadyCats scored twice in the seventh inning. Kaylee Sanders doubled leading off the inning, and scored on a single by Woodard. Slaughter reached on an error, with Woodard advancing to third. Thomas then brought Woodard home with a single to left to make it 7-0.
By Don Brown, Local Sports
Reach Don at donbrown@k105.com