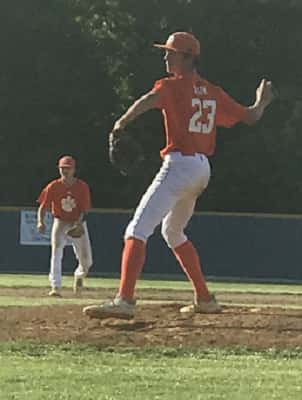 In the three games played this season between Grayson County and Whitesville Trinity, the Cougars have outscored the Raiders 27-0. Monday the Cougars punched their ticket to next week's 3rd Region Tournament with a 10-0, run-rule win over the Raiders in the 12th District Tournament opener.
Caine Smith was the winning pitcher for the Cougars, going six innings and allowing no runs on five hits while striking out seven. The Raiders had only one runner reach as far as second base and he was erased on a botched hit-and-run play when Cougar catcher Briley Napier gunned him down at third base.
The Cougars meanwhile had 12 hits. Napier had a pair of doubles and drove in three runs, while Damon Simon had two hits and drove in two.
The Cougars scored the only run they would need in the second inning. Smith reached on an infield single, then stole second base. Two outs later, Smith scored on a single to center by first-baseman Gavin Childress.
Grayson County then sent 10 men to the plate and scored six times in the third. Caden Woodcock beat out an infield hit before Ryan Johnson, attempting to sacrifice Woodcock to second base, laid down a perfect bunt and beat it out for a hit.
Noah Bullock sacrificed the runners to second and third, and both scored on a sharp single to right-center by Simon, who reached second base on the throw home. Napier then singled home Simon to make it 4-0.
Smith grounded out for the second out, but Simon advanced to third on the play. Simon then came home on a single to right by Dain Hawkins. Andrew Haycraft followed by lining a triple to straight-away centerfield, driving in Hawkins to make it 6-0.
The Raiders made a pitching change at that point, with Landon Huff taking over for starter and loser Kevin Foster. Haycraft scored when Childress' ground ball was booted for an error, making it 7-0.
The Cougars ended the game by the run-rule with three runs in the sixth inning. With one out, Johnson beat out an infield single, then stole second base. Bullock then looped a single into left, leaving runners at first and second as Johnson had to hold at second to see if the ball would be caught. Nate Pennington replaced Bullock as a pinch runner at first.
Simon lined out to center for the second out, but Napier laced a ball down the left field line into the corner. Johnson scored easily, and Pennington was able to score all the way from first on Napier's double.
Napier advanced to third base on a wild pitch, then scored the deciding run when Smith beat out a grounder to short for a base hit.
The Cougars will meet Butler County in tonight's 12th District Championship game. The Bears advanced by outlasting Edmonson County 6-5 in nine innings in the second game of the evening. The final is scheduled to begin at 6 p.m. in Whitesville. You will be able to listen to coverage on K105's Facebook page beginning at 5:45pm.
By Don Brown, Local Sports
Reach Don at donbrown@k105.com