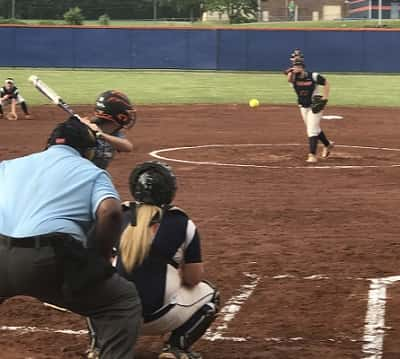 Trailing 2-1 in the fifth inning, the Whitesville Trinity Lady Raiders sent 15 batters to the plate and scored 13 runs to take the 12th District Championship 14-2 over Grayson County's Lady Cougars.
The Lady Raiders pounded Lady Cougar starter Lindsay O'Neal for 17 hits, 11 of them in the fifth inning. Katherine Hibbitt was the winning pitcher, allowing two runs, only one of them earned, on six hits. She walked one, hit two batters and struck out none.
The Lady Cougars took a 1-0 lead in the first inning with an unearned run after two were out. Maddie Duvall reached on an error, went to third on a hit by Bailey Snyder, then scored on a base hit by Rachael Snyder.
They made it 2-0 with a run in the third. Duvall was hit by a pitch leading off the inning and moved to second on a ground out by Bailey Snyder. A wild pitch moved Duvall to third, and she scored on Rachael Snyder's second hit, a single into the hole at short.
The Lady Raiders got one of those runs back in the bottom of the third after two were out. Cassidy Morris singled to left field, and made it to third base when the ball got past left fielder Jenna Nash. Brittney Booker then doubled home Morris to make it 2-1.
Then came the fifth inning. Morris drove in four runs with a pair of singles. McKenzie Roberts drove in a run with a single, and Booker drove in another with a double.
But the big blows were struck by the freshman Hibbitt, and senior, Nina Wathen. With two runners on and just one out, Hibbitt took a ball out of the park for a three-run home run that made it 5-2. Later, with the Lady Raiders leading by nine, 11-2, Wathen went deep for a three-run home run that ended the game by the run rule.
This was the first-ever appearance in the 12th District Championship game for the Lady Raiders and they will enter next week's 3rd Region Tournament as the champions of the district. The Lady Cougars will face a district champion in their regional appearance.
By Don Brown, Local Sports
Reach Don at donbrown@k105.com