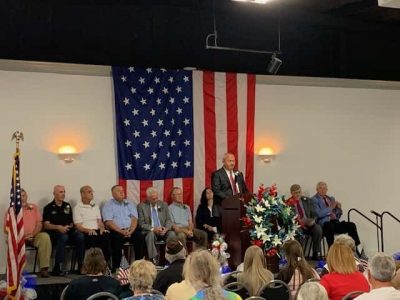 (Leitchfield, KY) – As Memorial Day was observed across the nation this past weekend, Grayson County gathered Saturday for the 20th annual Memorial Day Procession.
Approximately 100 people carried placards hosting the names of those from Grayson County who paid the ultimate sacrifice. Bells towed in the background as the procession made its way from Leitchfield Fire Department Station 2 to the Centre on Main where dignitaries gathered.
Judge Kenneth H. Goff was recognized as the founder of the community memorial procession 20 years ago. Judge-Executive Kevin Henderson, as well as several veterans, spoke to a crowd of approximately 200 people.  The guest of honor, Caneyville native Bill Evans, spoke of his experience as a veteran and how he was pleased that Grayson County made such great efforts to honor fallen soldiers.
MIA/POW flags were presented to Mayor Rick Embry, Sheriff Norman Chaffins and Judge-Executive Kevin Henderson by representatives of the newly formed Leitchfield VFW. The Leitchfield Police Department was recognized by the organization for flying a POW/MIA flag, and the VFW voted to purchase three more for the aforementioned entities.
The Grayson County High School Orchestra performed, H.W. Wilkey students performed with patriotic songs, Heidi Baldwin sang God Bless America and the Star Spangled Banner, Elli Hester read "Crossing the Bar" and Devon Coon, a junior at GCHS, played taps to end the ceremony.