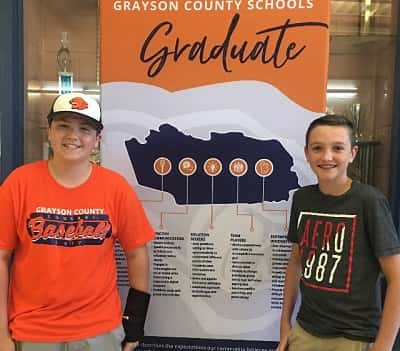 Two Grayson County Middle School students recently received state recognition for their ACT college admissions test scores.
The test is offered to the district's 7th grade Gifted and Talented Education students through the Duke University Talent Identification Program, and scoring exceptionally well were Landon Shiarella, who scored a 27 in reading, and Paul Overton, who scored a 23 in science. Both scores well exceeded the test benchmark.
In addition to this major academic accomplishment, both students are involved with extracurricular activities:
Landon plays first base and pitches for the middle school baseball team. He is a member of Beta Club and the school's Academic Team, competing this year in social studies at state. He also sponsored a successful bill at Kentucky Youth Assembly (KYA), a mock student legislature. Next year he would like to take on a leadership role in running a session room. His career goal is to be a lawyer.
Paul runs and competes in pole vault on the track and cross-country teams at the middle school. He also sponsored a successful bill during KYA, and next year aspires to run for KYA Governor. His career goal since "2nd or 3rd grade" is to follow in his "papaw's" footsteps as an aerospace engineer. He's already looked into engineering schools and, at this point, is leaning toward attending the University of Louisville or the University of Central Florida.
The Grayson County School Gifted and Talented Program is headed by Teresa Blain, who is finishing her 14th year in the role. She previously taught for 13 years at Grayson County High School.
Both students were formally recognized during a special ceremony at Western Kentucky University on May 22. The event is sponsored by The Center for Gifted Studies in conjunction with the Duke University Talent Identification Program.
As of April 1, the Duke TIP 7th Grade Talent Search enrolled 2,528 students from the state of Kentucky. Out of 2,038 students in Kentucky who tested, only 752 (37 percent) qualified to attend a state ceremony.
By Grayson County Schools