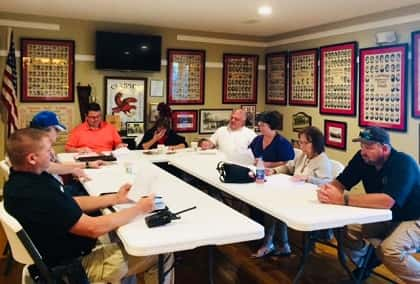 Clarkson City Commissioners held a wide-ranging discussion at Monday night's meeting on possibly expanding a proposed ordinance limiting where mobile homes may be placed inside the city limits.
Originally, the commissioners' aim was to preclude mobile homes from being placed anywhere within the city except an existing mobile home park. The intention of the proposal was to not allow mobile home placement to drive down the value of brick-and-mortar and wood frame homes.
The discussion on Monday night, though, shifted to the commissions options to regulate the condition of mobile homes in the city that have no running water, electricity, or other vital services, despite being rented and occupied.
The 45-minute discussion ended with Mayor Bonnie Henderson asking the commission to table the matter until further research could be completed by commissioners and City Attorney Tom Goff.
Blood drive
The city will host a Red Cross Blood Drive on Monday, June 17, from 3:00 p.m. until 8:00 p.m.
The drive will be held at the Clarkson City Hall and Community Center.
The Red Cross needs all blood types, but currently there is a critical shortage of type O blood, according to the agency.
By Ken Howlett, News Director
Contact Ken at ken@k105.com or 270-259-6000