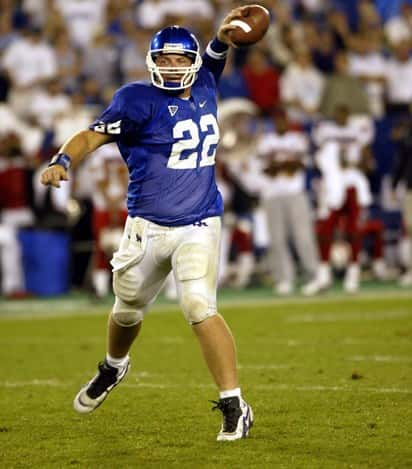 Former University of Kentucky starting quarterback, and Northern Kentucky native, Jared Lorenzen has died at the age of 38.
In a statement released to Kentucky Sports Radio's Matt Jones, the family of Lorenzen expressed their appreciation "for all of the support and prayers over the past six days." The Highlands High School graduate was admitted to the hospital last week due to an illness.
Lorenzen played for the Cats from 2000-2003 and started 41 games while passing for over 10,000 yards.
Following his career in Lexington, he was signed as an undrafted free agent by the New York Giants where he was a member of the 2007 Super Bowl winning team.
Known by his fans as the "Hefty Lefty" or the "Pillsbury Throwboy," Lorenzen's battle with his weight was well documented over the past few years. Last year, he was featured on an ESPN special that showed the progress that the Fort Thomas native was making.
Lorenzen is survived by his two children. His family asks for privacy during this time and said that they will announce arrangements in the coming days.
By Sam Gormley, Play-By-Play Announcer/Local Sports
Reach Sam at sam@k105.com
(Headline Photo by UK Athletics)