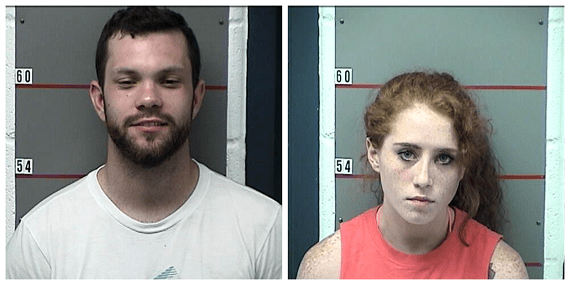 A Clarkson man and Caneyville woman have been arrested on drug charges after a traffic stop.
Saturday morning at approximately 1:40, Grayson County Sheriff's Office Deputy Fred Norder conducted a traffic stop on a southbound Chevrolet HHR with no working taillights on North Main Street, at the Mill Street intersection.
Upon making contact with the driver, 23-year-old Troy S. Blair, of Clarkson, and passenger, 21-year-old Carrie L. Hayse, of Caneyville, Norder detected the odor of "intoxicants," according to the arrest citation.
Additionally, Blair was unable to provide police with a driver's license, proof or insurance or a registration receipt.
Norder's K-9 partner, Marco, was deployed around the vehicle and alerted to the presence of narcotics at the driver's side front door, the citation said, with a subsequent search of the vehicle by Norder and Deputy Zane Greer revealing four used syringes. During a search of Hayse, police found a bag of methamphetamine, with Blair admitting to "driving him and Hayse around to purchase the methamphetamine," according to the citation.
Both suspects were arrested and charged with possession of a controlled substance (methamphetamine) and possession of drug paraphernalia. Blair was also charged with multiple non-moving violations.
The suspects were lodged in the Grayson County Detention Center.
Along with Greer and Marco, Deputy DJ Newton and Leitchfield Police Officers Keith Harrell and Joe Overton assisted at the scene.
By Ken Howlett, News Director
Contact Ken at ken@k105.com or 270-259-6000