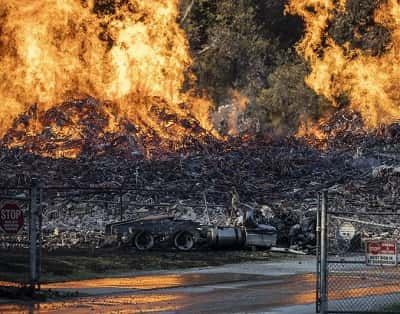 Officials say the massive fire at a Jim Beam warehouse in Woodford County was started by a lightning strike.
The July 2 blaze destroyed about 45,000 barrels (each barrel holds 53 gallons of bourbon) and resulted in a "severe" fish kill in parts of the Kentucky River after runoff from the blaze entered a nearby creek before pouring into the river.  Kentucky's Energy and Environment Cabinet said the company will face an undisclosed fine.
Jim Beam may also face fines from Kentucky Fish and Wildlife, according to authorities.
Environmentalists told media outlets the runoff from the fire spent days floating down the Kentucky River but has since dispersed as it entered the mouth of the Ohio River. Oxygen levels have returned to normal within the Kentucky River.
The early morning fire began when a barrel warehouse caught fire and quickly spread to an adjacent warehouse. Firefighters put out the blaze at the second warehouse, but the other continued to burn for about 24 hours as Bluegrass Emergency Response Team supplied flame-retardant foam to aid in extinguishing the fire.
By Ken Howlett, News Director
Contact Ken at ken@k105.com or 2760-259-6000