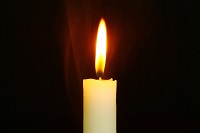 Robert Gene Hill, age 74 of Leitchfield passed away Monday, August 5, 2019 in Louisville, Kentucky. He was born March 9, 1945 in Wax, Kentucky the son of Owen and Clara Clemons Hill.
He is survived by his children, Larry Mercer, Paige McDaniel, Patty Rankin (David) and Robin Hill, brother, Charles Hill (Jenny), sisters, Carlene Braun and Anna Woodall, thirteen grandchildren and 28 great-grandchildren.
Other than his parents, he was preceded in death by his wife, Hazel Mercer Hill, daughter, Sandy Hill, brothers, Clevie and Cletus Hill, sisters, Juanita Pierce, Estella Jarboe, Ethel Lindsey, Genevia Higdon and Marie Stevenson and granddaughter, Brandy Brooks.
Funeral services will be held at 12:00 noon on Saturday, August 10, 2019 at the Watson and Hunt Funeral Home in Leitchfield, Kentucky. Visitation will be held on Friday, August 9 from 2:00 – 8:00 p.m. and from 9:00 a.m. until time of service on Saturday. Burial will be in the New Freedom Cemetery.
Watson and Hunt Funeral Home is both honored and privileged to be entrusted with the care of Mr. Hill. Share your messages of condolence with the family of Robert Hill at www.watsonhuntfuneral.com.