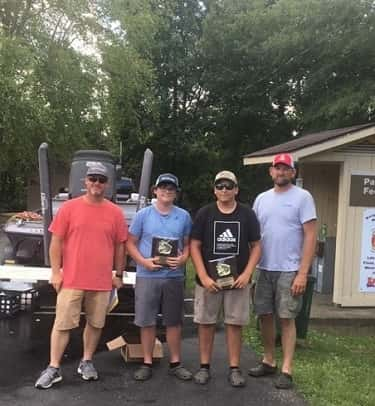 The Grayson County Bass Fishing team is off to a hot start in the 2019-20 school year.
Under new head coach Curtis Decker, the team has competed in two competitions this season with the most recent being the Wehr Invitational at Laurel Branch this past Saturday.
The Cougars took each of the top three positions with Johnathan Williams and Bradley Webb finishing in first place in the meet. Other high marks for the Cougars included Jacob Dennis/Jacob Hart who finished in 2nd and Kegan Floyd/Allan Sauer who finished in third. In addition, Jacob Hart caught the biggest fish of the day.
The team is looking to build upon last season that saw Mason Decker and Brad Blanton compete in the state championship meet at Kentucky Lake in May.
The next tournament will be held on August 24th at Axtel.
Team points standings after two tournaments:
Top GC Bass Fishing Teams
7/27 Moutardier
8/3 Laurel Branch
Total
1st
Cody Saltsman & Aidan Moore
100
85
185
2nd
Allen Sauer & Kagen Floyd
90
90
180
3rd
Jackson Weedman & Isaiah Coley
75
75
150
3rd
Johnathon Williams & Bradley Webb
50
100
150
5th
Jacob Hart & Jacob Dennis
50
95
145
5th
Sam Whitfill & Travis Grider
95
50
145
7th
Maggie Jennings & Caden Jennings
85
50
135
8th
Hunter Williams & Lane Williams
50
80
130
8th
Mason Miller & Caden Woodcock
80
50
130
All remaining teams have 50-100 points
By Sam Gormley, Play-By-Play Announcer/Local Sports
Reach Sam at sam@k105.com
(Headline Photo of Johnathon Williams & Bradley Webb submitted by Kim Whitfill)