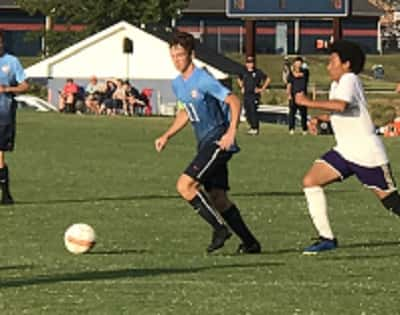 Hosting the Campbellsville Eagles in the final scrimmage game of the season, the Cougar boys soccer team recorded a 6-2 win Thursday afternoon at the Cougar Soccer Field.
Senior Wyatt Schultz scored three goals in the win and senior Kyler Goostree had a pair of goals to pace the win. Senior Logan Raymer had the other Cougar goal.
It didn't take long for the Cougars to get on the scoreboard. In the fourth minute of play. With the Cougars putting the pressure on Eagle goalie Brennon Wheeler, forward Bahaa Masri put a shot on goal that Wheeler deflected away. The ball went right to Goostree, who put it into the net to make it 1-0.
In the 11th minute, Schultz brought the ball down the right side before centering a pass to Raymer, who booted the ball home to make it 2-0.
In the 25th minute. Schultz took a pass from sophomore Josh Stevenson, dribbled past the Eagle defenders and beat Wheeler with a left-footed shot into the corner of the net to make it 3-0, which was the score at halftime.
Campbellsville got on the board in the 49th minute when freshman Chase Hord beat Cougar goalie Brady Whobrey with a shot that made it 3-1.
Goostree scored his second goal in the 55th minute when a rebound from a Wheeler save came to him and he returned it to the net to give the Cougars a three-goal lead once more, 4-1.
Grayson County made it 5-1 in the 62nd minute when junior Matthew Haycraft crossed a pass to Schultz right in front of the Campbellsville goal and Schultz sent it into the net.
The Eagles scored their second goal in the 68th minute to make it 5-2,  but Schultz ended the scoring in the 74th minute after taking a pass from Goostree for the final 6-2 score.
The Cougars will open their regular season on Monday, August 12 when they host the Russelville Panthers at the Cougar Soccer Field beginning at 6 p.m.
By Don Brown, Local Sports
Reach Don at donbrown@k105.com