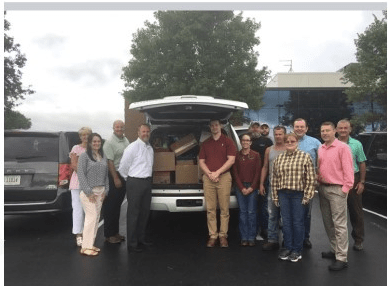 (Leitchfield, KY) – The last round of ceremonial  first-day photos were snapped Tuesday morning in Grayson County as Preschoolers made their way to Grayson County Schools Pre-K classrooms.  All other grades had their opening day last Wednesday, August 7th.  This brings to the public schools totals to approximately 4,400 students, according to Caryn Lewis, Grayson County Schools Public Relations Director.
As summer days came to a close, Grayson County students and teachers did not head back to school without the support from several community-minded entities.
The employees of MTD Products in Leitchfield collected school supplies that were delivered to district administration before classes began.  Sheri Carroll, Human Resource Manager, said this is hopefully the start of an annual event the manufacturing company plans to participate in. Carroll said there were over $2,000 in supplies collected, and they will be distributed through the districts various schools as a need is recognized.  Carroll said it's important to the company to impact the community in this way and to help optimize the students learning experience.
Saturday, August 3rd, Free Liberty Church in Leitchfield distributed almost 100 bags full of free school supplies and  popcorn to students.  Kaye Cottrell, church member, said the event was for the general public and  any child in need.  Cottrell said the ministry has a heart to love the way God loves, and looks for ways to help throughout the community year round.
Approximately 320 attendees were helped when Leitchfield First Baptist Church made back-to-school their mission field this year, according to Worship Pastor Dennis Cook, who said the "Love Leitchfield" event was born out of a brainstorming session by the churches mission team.  Cook said the team was "…brainstorming on the idea of the 2019 church-wide mission trip and the chairperson, Lauren Bishop, had the idea to do an event that would impact our community by giving them free school supplies and haircuts.  The team took the idea and grew it to include vision, medical and later even dental!  God has given us an amazing facility to host a large event like this and we loved that we were able to open our church doors once again to the community and meet some of their needs."
Many of the church members of First Baptist Church were the contacts for each station, which included:
60+ free dental exams from Twin Lakes Family Dental
80+ free child (10+ adults) vision screenings by the Leitchfield Lions Club:Paul Witten, Sandra Jorgenson, Betty L. Witten, Andy Laslie, Barbara Warfield & Patty Dudgeon
Several free anonymous HIV screenings by our Grayson County Health Department
Countless medical checks from Dr Gay Fulkerson, Dr. Luke Fife and Dr. Bryce Meredith
Haircuts from Cavaline Votaw & Abby Flores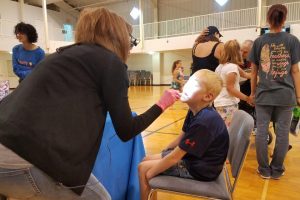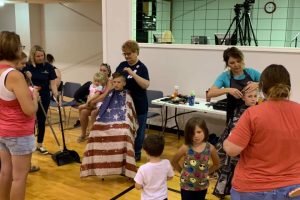 Later in the evening, the church hosted 24 teachers for a free dinner, a time of prayer, and were gifted supplies for their classroom.  All teachers in Grayson County were invited to attend the event, which was publicized to every public school teacher in the county before the end of last school year.  Cook said it was important to the church that they also do something to encourage those who are shaping, molding, and bettering the lives of students each and every day.
Cook reflected on the day as saying, "As one of the pastors of the church, it is always awesome to see your church coming together to serve and worship together.  Any event where you can include kids, youth and adults serving together is a glorious picture of the church.  Psalm 100:2 reads 'Serve the Lord with gladness…' and that is what we attempted to do that day: serve Jesus by serving our community with needs they had."
The "Love Leitchfield" title came from a sermon Cook preached last year that was geared to "…open the eyes of our church members to statistics on those who do not attend church, poverty, and other challenges our community has.  We are called to love others as Christ loves us and the title "Love Leitchfield" just works!"
First Baptist Church plans to continue the "Love Leitchfield" event in 2020, hoping to see it expand.
For over a decade, the congregation of Potter's Hope Ministries meets the Sunday evening before school starts for a time of community prayer.  Several people disbanded from the campus of Potter's Hope Ministries in Leitchfield to make their way to each school in the Grayson County area, including the Central Office, for on-campus prayer time.   According to Pastor Wayne Clemons, "The church not only prays for every child attending school but for their home, as well as the teachers, administration, bus drivers, custodians, and even the lunch ladies."  Clemons said it's been the heart of the church to see back-to-school prayer as an investment in the lives of the children.
The Grayson County Homemakers Club collected school supplies to donate to the Caneyville Family Resource Center, and Leitchfield United Methodist Church collected four large boxes and 15-20 bags full of supplies, according to Julie Clemons, church secretary.  Clemons said the supplies were donated to H.W. Wilkey and GCMS, and placed in the hands of Rick Whobrey, FRC Coordinator for both schools.
CrossPoint Church in Leitchfield collected an offering during their annual VBS event that was donated to Mission Hope for Kids – a new afterschool program starting in Leitchfield in September – for school supplies, according to Debbie Childress, church member.
If there is an organization who helped prepare students for the school year that we are unaware of, please contact Misty Thomas: mthomas@k105.com.