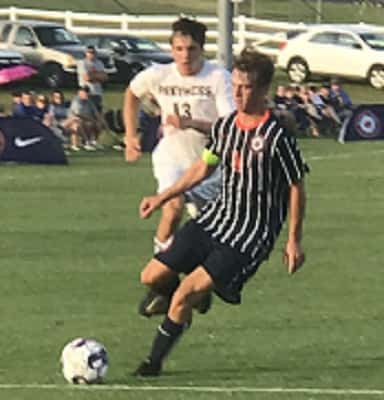 Senior forward Wyatt Schultz made some school history on Monday as he scored eight goals in the Cougars' 11-3 victory over visiting Russellville in the soccer season-opener at the Cougar Soccer Field.
The eight goals was a school record, and Schultz displaced his older brother, Conner, for the record. The eight goals also tied Schultz for the third-highest goal total in KHSAA history and he became just the 12th player in KHSAA history to score as many as eight goals in a game.
Schultz might have even scored more, but head coach Kenny Fukuhara took him out with about seven minutes left in the game.
The Cougars got on the board first when junior forward Matthew Haycraft scored in the seventh minute of play. Less than a minute later, Schultz took possession of the ball off a deflection and took it in all alone and beat Panther goal keeper Nathan Cates to make it 2-0.
The Cougars made it 3-0 in the 18th minute when senior Logan Raymer won a goal kick and hit Schultz with a pass for a goal.
The Panthers then began to pressure the Cougar goal and sophomore Avery Flener made it pay with a goal in the 24th minute that made it 3-1.
Senior Brady Whobrey then made two spectacular saves in succession in the 27th minute to deny the Panthers a second goal. But the Panthers made it 3-2 just seconds later when Flener dribbled through the Cougar defense and scored. The half ended with the Cougars leading 3-2.
Less than a minute into the second half, the Cougars scored again to make it 4-2. Schultz brought the ball deep down the right side, then took the ball toward the goal, before passing to Haycraft in front of the net for the goal.
Ten minutes later, Schultz took a throw-in along the right sideline, dribbled in and beat Cates with his third goal of the game to make it 5-2.
Schultz then scored in the 56th minute, twice in the 63rd minute, then again in the 65th to give the Cougars a commanding 9-2 lead.
Flener scored for the Panthers in the 70th minute to make it 9-3, but Schultz took a centering pass from Haycraft and scored his final goal in the 73rd minute to make it 11-3 and that's when Fukuhara took him out of the game.
With less than two minutes left in the game, Haycraft was fouled in the penalty area and his penalty-kick goal, his third of the game, made the final score 11-3.
The Cougars will be back in action this coming Thursday at the Cougar Soccer Field when they play host to DeSales, from Louisville. That game is scheduled to begin at 5:30 p.m.
By Don Brown, Local Sports
Reach Don at donbrown@k105.com