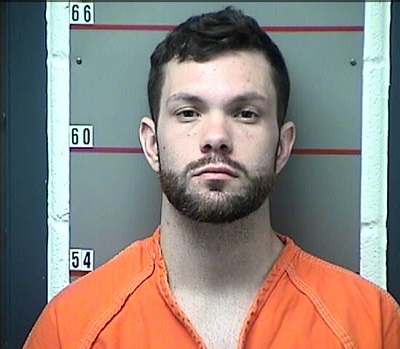 A Clarkson man has been arrested for the third time in just over a year after threatening a man with a knife and fleeing police.
Tuesday night at approximately 7:15, Leitchfield PD Sgt. Robert Jackson and Officers Chase Melton, Kelsey Overton and Chance Anthony, along with Grayson County Sheriff's Office Sgt. Fred Norder, responded to the 300 block of West Market Street on the report of a man with a knife.
Upon police arriving at the scene, 23-year-old Troy Blair fled authorities and hid behind houses prior to running a little more than a block through several yards before finally heeding commands from Norder to stop running and lay on the ground.
According to police, Blair had brandished a knife and threatened a random citizen on West Market Street.
He was arrested and charged with third-degree terroristic threatening and fleeing or evading police (on foot). Blair is lodged in the Grayson County Detention Center.
It was only a month ago that Blair and a Caneyville woman were arrested on drug charges at a traffic stop conducted by Norder.
On Saturday morning, July 6, Norder conducted a traffic stop on a southbound Chevrolet HHR with no working taillights on North Main Street, at the Mill Street intersection.
Upon contacting the driver, Blair, and passenger, 21-year-old Carrie L. Hayse, of Caneyville, Norder detected the odor of "intoxicants," according to the arrest citation.
Norder's K-9 partner, Marco, was deployed around the vehicle and alerted to the presence of narcotics at the driver's side front door, the citation said, with a subsequent search of the vehicle by Norder and Deputy Zane Greer revealing four used syringes. During a search of Hayse, police found a bag of methamphetamine, with Blair admitting to "driving him and Hayse around to purchase the methamphetamine," according to the citation.
Both suspects were arrested and charged with possession of a controlled substance (methamphetamine) and possession of drug paraphernalia. Blair was also charged with multiple non-moving violations.
In June of last year, Blair was wanted by Clarkson police on drug and fleeing charges when, after receiving a tip, Clarkson Police Officer Rick Clemons, along with Leitchfield Police Officers Jeff Helvey, Greg Whobrey, then-Capt. Brandon Cook, and Ordinance Officer David Riley, arrested Blair at a residence in Leitchfield. He was taken into custody without incident.
In that case, he was charged with possession of a controlled substance (methamphetamine) and fleeing or evading police (from an earlier incident in Leitchfield). He was also served with a parole violation warrant.
By Ken Howlett, News Director
Contact Ken at ken@k105.com or 270-259-6000