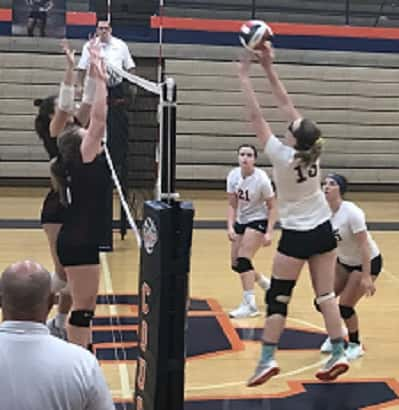 The Breckinridge Lady Tiger volleyball team came into the Cougar Den on Tuesday with a perfect, 9-0 record. When they left , their record was still perfect after they defeated the Lady Cougars in straight sets, 3-0 (25-16, 25-13, 25-19).
The Lady Cougars stayed with the Lady Tigers in the first set until they held an 11-10 lead, when a Natalie Henning kill gave the ball to the Tigers tied at 11. Sophomore Audrey Whitworth then had three kills in a 4-0 run that put the Tigers in the lead to stay.
At set point, and with the Lady Cougars serving, senior Kendall Miller scored a kill to give the first set to Breck, 25-16.
The Tigers took an early 3-2 lead and slowly, but steadily expanded it in the second set. With the serve and leading 23-13. Whitworth put away a kill to take it to set point, 24-13 when a Lady Cougar hitting error gave Breck the second set, 25-13.
The Lady Cougars led once in the third set, 1-0. The Tigers took control and were soon up by 10 points, 12-2.
An ace from Kenzie Skaggs and a kill by Ella Robinson, closed the gap to five points, 17-12.
Leading by seven points, 20-13, junior Avery Aulbach served three points to increase the Breck lead to 10 points, 23-13.
Grayson County staved off a match point at 24-14 when junior Chloe Cox dinked a ball into an empty spot to make it 15-25. Cox took the serve and served four straight points to bring it to 24-19, but a service error gave the match to the Tigers.
By Don Brown, Local Sports
Reach Don at donbrown@k105.com