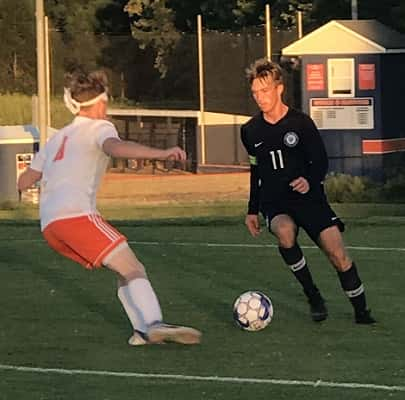 A Cougar own-goal with less than ten minutes left to play in their game against Hart County on Thursday, allowed the visiting Raiders to salvage a 3-3 tie.
The Cougars had taken a 3-2 lead on senior Wyatt Schultz's second goal of the game in the 66th minute of play. Hart was awarded a corner kick in the 70th minute and the kick came in low, skidding along the ground. There was a traffic jam in front of the Cougar goal and the ball glanced off a Cougar defender and into the goal to tie the score.
The Cougars had taken an early lead in the tenth minute of play when junior Matthew Haycraft was fouled about 30 yards to the left of the Raider goal. He put the free kick right on goal, where goalie Ethan Chenowith got his hands on the ball, but could not control it and it settled into the net to give the Cougars the early 1-0 lead.
A minute later the Raiders tied the score when senior Cameron Tennyson took the ball in deep on the right side and crossed a perfect pass to senior Braydon Bell, who put the ball in the net past Cougar goalie Brady Whobrey.
Grayson County took the lead back in the 28th minute. Haycraft brought the ball deep down the right side and sent a centering pass to Schultz, who beat Chenowith to make it 2-1, which is how the first half ended.
The Raiders tied the score at 2-2 in the 55th minute of play when the combination of Bell and Tennyson clicked for another goal, this time with Bell assisting and Tennyson scoring the goal.
That set up the final sequence of events and the eventual 3-3 tie.
With the tie, the Cougars drop to 5-3-1 on the season.
By Don Brown, Local Sports
Reach Don at donbrown@k105.com