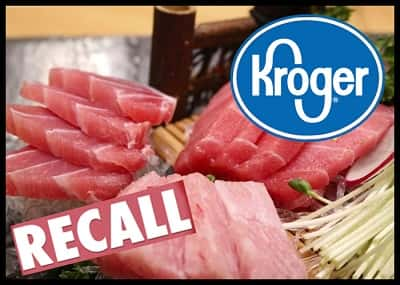 The FDA has issued a recall of yellowfin tuna steaks sold at Kroger stores in several states after some consumers experienced symptoms of scombroid poisoning after eating the fish.
On September 4, the FDA became aware of several cases of scombroid poisoning from three separate Kroger stores in Ohio. The states affected by the recall, other than Kentucky and Ohio, include Georgia, North Carolina, South Carolina, Alabama, Indiana, Virginia, West Virginia, Michigan, Missouri, Tennessee, and Mississippi.
The affected tuna steaks have sell-by dates of August 29 through September 14, and may be sold as raw yellowfin tuna steaks at the seafood counter or seasoned in store-prepped Styrofoam trays.
The FDA says scombroid poisoning is caused by eating fish that has not been properly refrigerated or preserved and therefore contains high levels of histamine. It may cause allergic reaction-type symptoms including flushing and a rash on the face and body, sweating, diarrhea, and abdominal cramps.
By Ken Howlett, News Director
Contact Ken at ken@k105.com or 270-259-6000