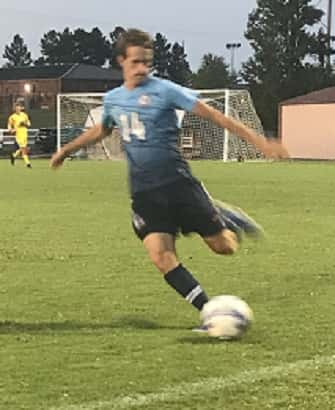 Sophomore Josh Stevenson scored four goals Monday against Todd County Central, powering the Cougars to an 8-0 shutout win.
The Rebels came into the game with just one win on the season against six losses, but played the Cougars to a standstill for most of the first half.
But in the 31st minute, the Cougars broke through for a goal when Stevenson took a through ball in the center of the field, dribbled through a couple of Rebel defenders and beat freshman goal keeper Jonah Rager with a shot that made it 1-0.
That seemed to open things up for the Cougars as less than three minutes later, senior Wyatt Schultz sent a ball through to junior Matthew Haycraft, whose shot from about 15 yards was stopped by Rager. But the rebound came right back to Haycraft and this time he didn't miss to make it 2-0.
The Cougars scored again with less than two minutes left in the first half when Stevenson took a ball deep down the right side and sent a centering pass across the Rebel goal mouth, where sophomore Bahaa al Masri put it into the net to make it 3-0 at the half.
Three minutes into the second half, the Cougars got an improbable goal from senior Wyatt Schultz that made it 4-0. Schultz took the ball deep down the left side, turned along the baseline and took it in on goal. His shot, from about 15 yards out skidded along the ground and deflected off Rager and into the net.
Three minutes later Stevenson scored his second goal of the game after taking a centering pass from Schultz to make it 5-0.
Stevenson picked up his third goal in the 51st minute off a cross from Haycraft, then scored his fourth in the 54th minute on a chip shot over the head of Rager to make it 8-0.
Junior Malaki Clemons put the finishing touches on the win by scoring a goal with under a minute left in the game on an arching shot from about 20 yards out.
The Cougars (6-3-1) will play host to the Barren County Trojans (6-2) this evening at 6:45 at the Cougars Soccer field.
By Don Brown, Local Sports
Reach Don at donbrown@k105.com