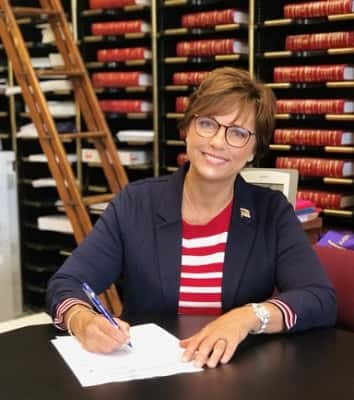 The Grayson and Hardin County Democratic Parties have selected a nominee to run for the remainder of former 18th District Representative Tim Moore's term.
Becky Miller, of Leitchfield, has been chosen to run in the special election scheduled for November 5, the same day as Kentucky's General Election. The 18th District covers all of Grayson County and a portion of Hardin County.
After serving more than 12 years, Moore resigned the seat last week, effective immediately, to spend more time in Christian ministry.
Miller is a retired educator who spent 18 years teaching in Grayson County elementary school classrooms before spending the last nine years of her career as an assistant principal at Grayson County Middle School.
She graduated with a Bachelor of Science and Master of Arts degrees from Western Kentucky University. Miller earned her National Board Teacher Certification in 2005 and her Educational Leadership certification in 2008.
The life-long democrat was also director of the Twin Lakes Regional Medical Center Board for eight years, as well as serving on the Kentucky Middle School Association board of directors. Currently, she is serving on the board of directors for the Lincoln Trail Area Development District, as appointed by Grayson County Judge-Executive Kevin Henderson, and has recently been appointed to the personnel committee.
"My life experiences give me a rich and unique perspective on life," Miller said. "I have lived in this community, worked in this community, raised my family in this community and volunteered in this community for the last 47 years. And as a Kentuckian, educator, and grandmother, I have grave concerns about the current political attitude toward public education and the impact it will have on future generations, my grandchildren and the economy of Kentucky. I am not a political insider, so I think that gives me the opportunity to have a set of fresh eyes on the issues facing this community and our commonwealth."
Miller will take on Republican Samara Heavrin in the November 5 special election.
By Ken Howlett, News Director
Contact Ken at ken@k105.com or 270-259-6000