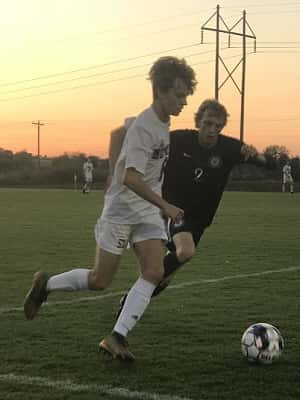 The Cougar soccer team closed out its regular season on Tuesday with a 2-1 win over visiting Muhlenberg County at the Cougar Soccer Field. They finish the season at 11-6-2.
Grayson County got first-half goals from seniors Wyatt Schultz and Logan Raymer and made them stand up for the win.
Schultz had a couple of early opportunities for goals, but was turned aside both times. The Mustangs had an excellent opportunity in the 18th minute when junior Kye Morse put a hard shot on goal on which senior goal keeper Brady Whobrey made a diving stop.
The Cougars broke through in the 22nd minute when junior Matthew Haycraft  put a ball through the Mustang defense right up the middle of the field. Schultz outran the defenders to get to the ball and taking it in on goal, beat Mustang goalie Tyson Shanks with a shot into the upper-right corner to make it 1-0.
The Cougars appeared to have taken a 2-0 lead in the 26th minute when Raymer put a ball into the Mustang net, but the goal was disallowed because Raymer was offside on the play.
Raymer got that goal back in the 36th minute when he took a crossing pass from Schultz near the left upright and left-footed the ball past Shanks to make it 2-0, which is how the first half ended.
Whobrey had another stop of a hard shot in the first minute of play in the second half, this one by freshman Hunter Dickerson, but in the 55th minute, Dickerson beat Whobrey for the Mustang's only goal of the night, making it 2-1.
With a little over two minutes left to play, the Mustangs' Andrew Carver just missed on an equalizing goal when his shot went just wide of the net. The Cougars were then able to close out the game for the win.
By Don Brown, Local Sports
Reach Don at donbrown@k105.com