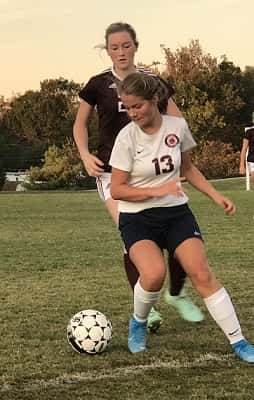 Tied 0-0 at the half, the Lady Cougar soccer team scored two second-half goals in their 11th District semi-final at Meade County on Monday to defeat the Breckinridge County Lady Tigers and send them into Wednesday's 11th District final.
Sophomore Ellie Evans scored off a penalty kick in the 65th minute of play to put the Lady Cougars in front, then junior Gillian Johnston scored in the final minute of play to ice the win. The Lady Cougars will play host Meade County, 10-0 winners over Butler County in the other semi-final, in Wednesday's final.
The Lady Cougars dominated the scoreless first half, keeping the ball in the Lady Tiger end of the field for most of the half. They just missed a goal in the 17th minute of play when Evans clanged a shot off the right upright and out of bounds.
They had another golden opportunity in the 20th minute when senior Kandler Lindsey sent a ball through the middle of the field which Johnston controlled behind the Tiger defense. But her shot went directly to goal keeper Abby Shannon, who made the stop.
Through the first fifteen minutes of the second half, the Lady Tigers were dominating play in the Cougar end of the field, but things turned around after that, with the Cougars applying pressure on the Tiger goal.
In the 65th minute, Evans took a ball deep into the Tiger end, but was dragged down just outside the six-yard box, giving the Lady Cougars a penalty kick.
Evans stepped up to take the shot and beat Shannon into the left side of the net. The Lady Cougars then began to defend their slim lead, with the score staying at 1-0.
But in the final minute of play, Johnston was able to send a ball home to assure victory.
With the win, the Lady Cougars broke a nine-game losing streak to improve to 4-12 for the season.
By Don Brown, Local Sports
Reach Don at donbrown@k105.com