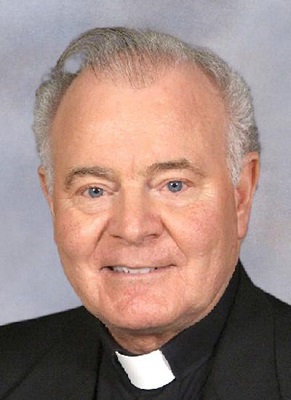 A Catholic priest from Grayson County who served as the unofficial chaplain for basketball teams at the University of Kentucky and University of Louisville will not have sexual misconduct charges filed against him.
Father Joseph Edward Bradley, 75, was accused in late February of this year of sexually abusing a minor while he was principal at Owensboro Catholic High School. He served in that capacity from 1980 until 1985
A second allegation of sexual misconduct by Bradley was reported to the Diocese of Owensboro on March 4, 2019. The incident allegedly occurred in 1980, according to the diocese. Both allegations were turned over to the Daviess County Commonwealth Attorney's Office.
A 12-member Diocesan Review Board undertook an investigation into the allegations that included interviewing several individuals and reviewing a report provided by an independent investigator, the diocese said. In late April, the board recommended that the allegations be deemed substantiated.
According to WFIE, in Evansville, after conducting its own investigation, the Daviess County Commonwealth's Attorney has declined to file criminal charges against Bradley.
"Daviess County Commonwealth's Attorney Bruce Kuegel says there was not evidence to support the allegations, and it is passed the statute of limitations," WFIE reports.
Bradley served as priest at Holy Name of Jesus Catholic Church in Henderson beginning in 1995 until 2011. He was named Henderson's Distinguished Citizen of the Year by the Henderson Chamber of Commerce in 2007.
He was the unofficial chaplain of the UK basketball team beginning in 1992 after meeting then-UK coach Rick Pitino. He also served as the team chaplain at UofL during Pitino's tenure at the school from 2001 until 2017.
Bradley served as executive director of an Owensboro shelter for women and children that was named for Pitino's son Daniel, who died in 1987 at six-months-old from a congenital heart ailment. Bradley also performed marriage ceremonies for several former UK basketball players and officiated at the funeral of long-time UK basketball and football play-by-play broadcaster, Cawood Ledford.
Bradley was ordained a priest in the Diocese of Owensboro in 1975. He retired from public ministry in 2011.
By Ken Howlett, News Director
Contact Ken at ken@k105.com