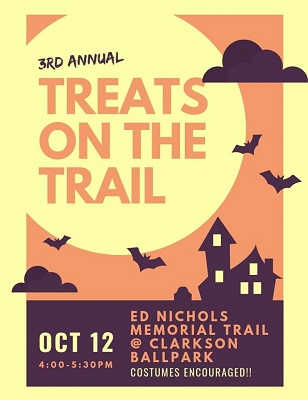 The third annual Treats on the Trail Halloween event is Saturday afternoon in Clarkson.
The free event, held at Clarkson City Park and the Ed Nichols Memorial Trail Nature, and hosted by Public Trail Association of Grayson County, had about 1,300 attendees last year.
There were will be about 40 booths (sponsored by local businesses) where children receive candy and other goodies. Families may also carve or decorate pumpkins and compete in a costume contest.
Holly Willis and Melissa Decker, with the Grayson County Public Library, will lead a story walk for children as they walk the trail and read 10 Trick-or-Treaters: A Halloween Counting Book. The story walk will begin at 4:00.
Children and adults alike are encouraged to wear Halloween costumes.
The event is Saturday afternoon from 4:00 until 5:30.
The video below is from last year's Treats on the Trail:
By Ken Howlett, News Director
Contact Ken at ken@k105.com