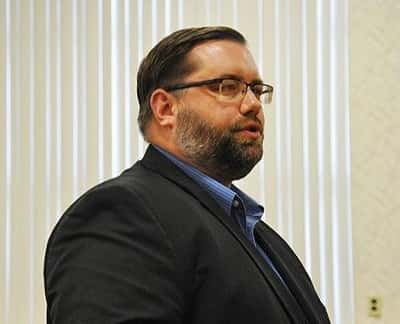 Kentucky Transportation Cabinet (KYTC) officials announced on Monday in Caneyville that the city will receive over $90,000 for resurfacing work.
Gray Tomblyn II, Department of Rural and Municipal Aid Commissioner, and Mark Welch, a KYTC field representative, announced that Caneyville will receive $91,250 for paving work to be completed on Walnut Grove Avenue (nearly three-tenths of a mile) and Center Street (nearly nine-tenths of a mile).
Caneyville Mayor James Embry identified the selected roadways as being among the most damaged in the city.
"We are very happy to receive these funds," Embry said. "This will impact our small community in such a positive way by making much-needed repairs and providing safer transportation for our citizens."
Projects submitted to the Department of Rural and Municipal Aid for discretionary fund consideration were evaluated by the KYTC district staff to assess the condition of roads and determine the most critical needs based on factors such as safety, economic impact, and traffic volumes, according to transportation cabinet officials.
"Modernizing local infrastructure is one of the best routes to attracting and keeping businesses in a community," Sen. Steve Meredith said. "Through increased safety and roadway improvements, these resurfacing projects are directly impacting Kentuckians and their communities. I extend my appreciation to those involved for prioritizing Caneyville in their resurfacing plans."
On Friday, Welch announced that the city of Clarkson will receive $47,400 for paving work on Spring and First Streets.ra
(Photo: KYTC official Gray Tomblyn II)
By Ken Howlett, News Director
Contact Ken at ken@k105.com