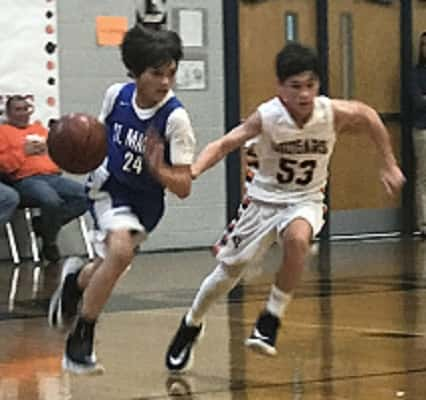 The middle school boys basketball teams had successful season-openers Monday night with a pair of blowout wins over the visiting St. Mary's Angels, from Whitesville, in Cougar Gym.
In the opener, the seventh-grade Cougars got double-digit performances from Isiah Poteet and Houston Brooks as they blew past the Angels 55-19.
The eighth-graders got 25 points and eight rebounds from guard Tayden Logsdon and whipped the Angels 55-24.
SEVENTH-GRADE GAME
Brooks had seven of his 11 points in the first period as the Cougars put their stamp on the game by outscoring the Angels 20-5.
Poteet then took over in the second period, scoring eight of his game-high 12 points as the Cougars basically put the game on ice, leading 35-9 at the half.
Coach Terry Lockett emptied his bench in the second half as the Cougars put 12 players in the scoring column.
In addition to his 12 points, Poteet added five rebounds and a steal. Brooks added three rebounds, an assist and three steals to his 11 points.
Landon Haycraft and Samuel Clemons both had six points and Haycraft led the team with three assists. Zak Bratcher scored four points, while Grayson Chaffins and Gage Napier had three each.
Five players, Dawson Childress, Kobe Martin, Justin Hill,  Jack Logsdon and Kadin Hanshaw completed the Cougar scoring with two points apiece.
EIGHTH-GRADE GAME
Logsdon did all of his scoring in the first half, with 13 points in the first period and 12 in the second. The Cougars had the game well in hand by that point, leading 38-16 at the break.
Coach Kevin Johnston went to his bench in the second half and the result was that nine players made it into the scoring column for the Cougars. In addition to his game-high point total, Logsdon led the team on the glass with eight rebounds, and led with two assists.
Guard Brady Bishop had seven points, while Jeren Vanmeter had five points and four rebounds. Guard Landon Haycraft also had five points and he led the team with two steals.
Deveron Kirk added four points and two boards while Raiden Warf had three points and five rebounds. Brooks also had three points while Poteet added two and Robinson one to complete the Cougar scoring.
By Don Brown, Local Sports
Reach Don at donbrown@k105.com