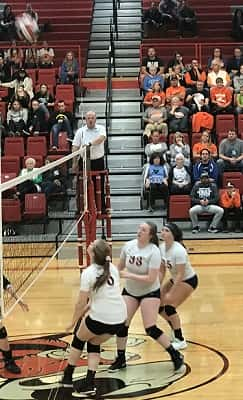 The Lady Cougars' volleyball season came to an abrupt end Tuesday night in the 3rd Region Championships at Hancock County as the Muhlenberg County Lady Mustangs handed them  a straight-set defeat, 21-24, 20-25, 19-25.
The Lady Cougars never led in the first set and trailed by as many as eight points, 13-21, before coming back a bit at the end. Ella Robinson took the serve at set-point, trailing by five at 19-24. Chloe Cox had a kill on the first volley before Robinson served an ace off the tape to make it 21-24
Robinson then hit a ball long on a kill attempt, giving the Lady Mustangs the first-set win.
Grayson County got off to a great start in the second set, scoring the set's first five points behind the serving of Cox, who had an ace in the run.
An ace served by junior Brieanna Boll gave the Lady Cougars their largest lead of the set, seven points at 17-10. But the Lady Mustangs went on a 15-3 run to take the second set 20-25, and the Lady Cougars' spirits seemed broken.
An ace by junior Kenzie Skaggs gave the Lady Cougars an early 3-1 lead in the third set, but the Lady Mustangs responded with a 4-0 run to give them a lead they would not give back.
Another 4-0 Lady Mustang run gave them a six-point advantage, 6-12. Grayson County then put on a 10-4 run that tied the score at 16-16 following a Robinson kill.
Brooklin Engler had a kill to stop the Lady Cougar run. That was the start of a 5-0 Mustang run that put them in charge of things, 21-16.
The Lady Cougars held off one match-point at 18-24, giving the serve back to Grayson County, but on the next volley senior Terri Bishop put away a kill to give the match to the Lady Mustangs.
Robinson led the Lady Cougars with 14 kills on the night, while Cox added six. Senior Alexis Hart, playing her last game as a Lady Cougar, led the team with 25 assists. Junior Bailey Richarson led the Lady Cougars with seven digs.
The Lady Cougars finish the season with a record of 16-13.
By Don Brown, Local Sports
Reach Don at donbrown@k105.com