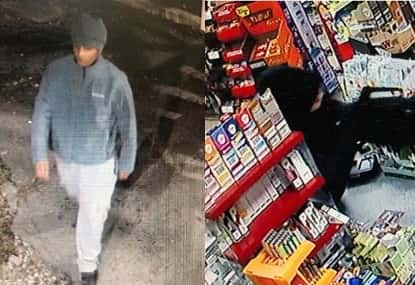 Bowling Green police are searching for two suspects who robbed a gas station at gunpoint.
The armed robbery occurred at approximately 11 :00 Wednesday night at the Gulf gas station at 322 Morgantown Road, according to multiple Bowling Green news outlets. Police said two men entered the store and threatened the clerk with handguns while demanding money. The clerk complied and the suspects, both men, fled the area.
One of the men was wearing a grey hoodie, the other a black hoodie.
Anyone with information on this robbery is asked to contact the Bowling Green Police Department at 270-393-4000.
(Surveillance photo courtesy of WBKO.com)
By Ken Howlett, News Director
Contact Ken at ken@k105.com