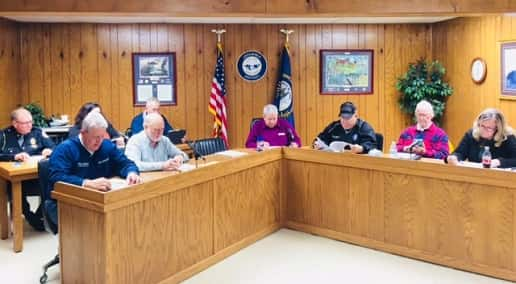 At Monday night's Leitchfield City Council meeting, council members approved two zoning change requests and agreed to advertise for a new city finance officer.
The zoning requests were previously approved by the Leitchfield Planning Commission and include a change from R-2 (multi-family residential) to C-1 (highway commercial) for the property at 39 Shrewsbury Road. The property is owned by Wayne Clemons and Warren Barton.
The second zoning request was for a change from R-2 to B-1 (neighborhood business) for the property at 112 West Walnut Street. The property is owned by Mark and Wanda Claypool.
HVAC work to be re-bid
The council approved to again advertise for bids for HVAC work at the under-renovation girls softball concession stand at Beville Park. President of Leitchfield Softball Jeremy Woosley previously received only one bid and one estimate for the HVAC work; both were for just over $16,000.
Executive session
Council members entered a private executive session to discuss an industry possibly locating in Leitchfield, as well as a personnel move.
The council emerged from the session saying that a tax abatement intended to entice the unidentified industry to the city was discussed. No other details on the potential new industry were made available.
It was also announced after the executive session that the city will advertise for a new city finance officer, as current finance officer Kim Sowders is leaving the city to work for the Grayson County Board of Education on December 2.
Light up Leitchfield
The annual Light up Leitchfield Christmas event will be held at 5:00 Friday night, December 6 at Beville Park. Santa Claus will make an appearance and singers from Lawler Elementary and Wilkey Elementary will entertain the crowd with Christmas music.
By Ken Howlett, News Director
Contact Ken at ken@k105.com