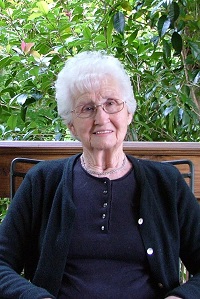 Dorothy Marie Tomes Nash, 92, of Louisville passed away at 7:56 PM Wednesday Nov. 20, 2019 at her residence.
The Edmonson County native was a homemaker, caregiver and a member of the Church of Christ. She was a daughter of the late Jethro Tomes and Devora Cummings Tomes and the wife of the late Estill Ray Nash. She was preceded in death by a daughter, Naomi "Faye" Roberts; a son, Gary Nash; three sisters, Beulah Herald, Syble Miller and Irene Booth; two brothers, Earl Tomes and Durward Tomes; and a grandson, Justin Nash.
Funeral services will be held at 1:30 PM Friday at Gravil Funeral Home with burial to follow in Big Reedy Cemetery. Visitation will begin at 11:30 AM Friday.
Surviving are a daughter, Wanda Morrow (Ken) of Louisville; two sons, Ronald Ray Nash of Centerville, TX and Roger Dale Nash (Tami) of Mt. Olive, AL; 11 grandchildren; 29 great-grandchildren; and three great-great-grandchildren.