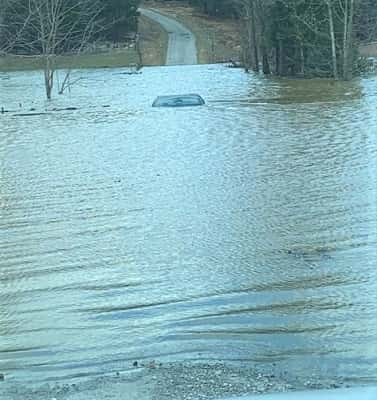 Local fire departments were busy Saturday night and early Sunday morning conducting high-water rescues after two motorists drove into flood waters following heavy rainfall throughout the area.
Saturday night at approximately 9:00, the Leitchfield Fire Department and Grayson County Sheriff's Office Deputies Mark Newman and Rick Mehlbauer along with Kentucky State Trooper Joey Beasley and EMS responded to Pleasant View Road after a female driver drove into flood waters.
Leitchfield Fire Chief Tim Duvall said the woman was inside her car, which had only the back windows above water. Duvall and Assistant Fire Chief Steve Stapleton waded out to the vehicle, which was located about 65 yards from "shore."
Duvall said the woman was in a panicked state and had to be persuaded to leave the vehicle. After agreeing to exit the car, Duvall and Stapleton carried the woman through the extremely cold water (the air temperature was in the mid-40s) and back to shore. Duvall said the rescue took about 20 minutes.
The victim was transported by EMS to Twin Lakes Regional Medical Center.
Then, at approximately 9:00 Sunday morning, the Wax and East Grayson Fire Departments and Grayson County Sheriff's Office responded to Shaw Creek Road after a male motorist drove into flood waters.
Wax Fire Chief Dave Strader said that upon his arrival, he found two men standing on top of a partially submerged car (the roof and part of the windshield were visible), and had been since about 3:30 Sunday morning.
Strader, in a four-wheel drive truck, drove to the men, who were located about 100 feet from dry land, and brought them back to land.
Neither man was injured.
As of Sunday afternoon, both Pleasant View Road in Millwood and Shaw Creek Road in Big Clifty remain blocked by floodwaters.
(Photo: Partially submerged vehicle on Shaw Creek Road)
By Ken Howlett, News Director
Contact Ken at ken@k105.com