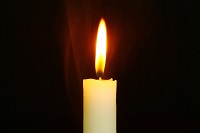 Frank M. Barnard, age 76, of Leitchfield, KY, passed away Monday, (December 2, 2019) at Twin Lakes Regional Medical Center.
He was born on February 17, 1943 in Franklin, KY, the son of the late Floyd Wade and Elizabeth Powell Barnard.
He operated a printing press for more than 30 years and enjoyed reading, home improvement and working outside.
He is survived by his sons, Herbert Barnard and Frankie Barnard, both of Leitchfield; a daughter, Rhonda Mitchell of Leitchfield; four grandchildren, Timothy and Aaron Barnard of Leitchfield, Tyler Mullins of Leitchfield, and Robert Barnard of Clarkson; two great-grandchildren, Dalton Cole and Landon Barnard; one sister, Peggy Barnard of Louisville, KY; and family friend, Carmen Bivens of Leitchfield. Several nieces and nephews also survive.
Other than his parents, he was preceded in death by his wife, Virginia "Ginger" Broughton Barnard; a sister, Mickey Orr and two brothers, Bill and Glen Barnard.
In keeping with his wishes, cremation was chosen.
Online condolences can be made in the guestbook on our website at www.dermittfuneralhome.com.