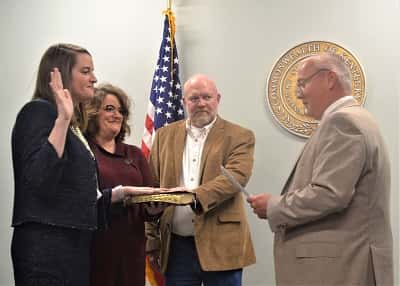 In front of a large crowd of dignitaries, family and friends, in a conference room at the Grayson County Government Annex Building, Samara Rae Heavrin was sworn-in Monday night as the new 18th District state representative by Grayson County Judge-Executive Kevin Henderson.
Heavrin won a special election on November 6 to fill the seat vacated by the resignation of Tim Moore.
In attendance at the standing-room-only ceremony were U.S. Congressman Brett Guthrie, Moore, five of the six Grayson County Magistrates, Sheriff Norman Chaffins, Jailer Jason Woosley, Clarkson Police Chief Buck Meredith, Chairman of the Grayson County Republican Party Andy Cain, and about 100 family, friends and supporters.
Heavrin was sworn-in with her parents, Ray and Monica Heavrin, by her side and with their respective hands on the bible.
After being sworn-in, Heavrin offered her appreciation to those in attendance:
I am so honored and humbled to be your voice in Frankfort supporting the 18th District of Grayson and Hardin counties. Thank you all so much for being here; thank you elected officials, thank you to my parents, thank you to every single person in this room … you got me here. Each one of you are so special to me and I'm just honored that you all could be here for this very special moment with me to celebrate. Continue to keep me in your prayers. Session is going to be a big adventure; it's going to be a huge task, but I know I'm up for the job and I know I'm up for the job because I have your support. So thank you all so much for coming, I so appreciate it from the bottom of my heart. I love each one of you here. I'm so excited to work with you and be your next state representative.
Heavrin, a 2010 graduate of Grayson County High School and a 2014 graduate of Western Kentucky University, moved to Washington, D.C. after graduating from WKU where she participated in a semester-long internship with Guthrie. In January 2015, she began working as an aide to U.S. Senator Rand Paul.
In January 2017, Heavrin moved back to Kentucky to serve as Kentucky State Treasurer Allison Ball's Unclaimed Property Director, but in short order was promoted to Director of Initiatives in Ball's office.
Heavrin previously said her experience working in Frankfort and in campaigns around the state have given her the knowledge needed to effectively serve her constituents.
The next General Assembly regular session begins on January 7.
(Headline photo: Judge-Executive Kevin Henderson administering the oath of office to Samara Heavrin, with her mother Monica Heavrin, and father, Ray Heavrin, by her side)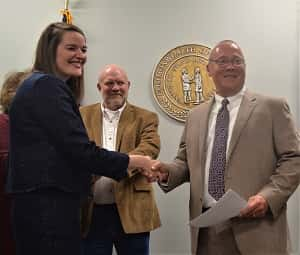 By Ken Howlett, News Director
Contact Ken at ken@k105.com