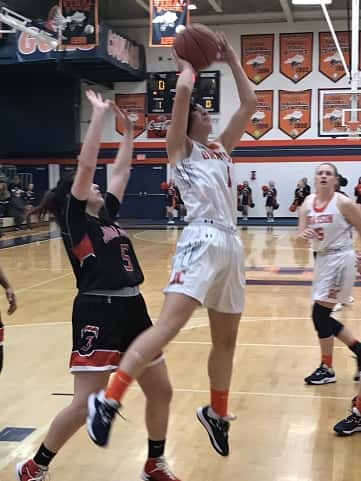 In a thrilling opener to the new basketball season Monday evening, the Lady Cougars held on for a 69-56 win over the visiting John Hardin Lady Bulldogs, 69-56.
The Lady Cougars got scoring from 10 different players, led by a double-double performance by junior Rachael Snyder, who finished with a game-high 25 points and 18 rebounds. Senior Kenzie Renfrow also had a double-double night, scoring 14 points and pulling down 10 boards.
The Lady Cougars got off to a hot start, racing out to a 17-2 lead with 53 seconds left in the first period. They led 19-4 at the end of the period.
When Aryssa Riggs hit a lay-up with 1:31 left in the first half, Grayson County held its largest lead of the night, 21 points at 33-12. They led by 18 points, 36-18 at the half.
But the Lady Bulldogs came out on fire to start the second half, opening with an 11-2 run that cut the lead to just nine points, 38-29 with 4:49 left in the period. The two teams played even the rest of the period, which ended with the Lady Cougars still holding that nine-point advantage 48-39.
Grayson County then opened the fourth quarter with a 10-2 run that gave them a 17-point lead, 58-41 with 6:08 left to play.
John Hardin pulled to within 10 points three times in the next four minutes, the last time coming at 64-54 with 2:11 left, before a Sharon Tidwell lay-in at 1:47 cut it to just eight points, 64-56.
The Lady Bulldogs would get no closer, though, as the Lady Cougars held on down the stretch.
Tidwell scored 18 of her team-high 21 points in the second half to lead the Lady Bulldogs' comeback
In addition to her points and rebounds, Snyder added an assist and a team-high five steals. Renfrow added three assists and two steals to her double-double night.
Senior Bailey Snyder just missed double figures, finishing with nine points and adding five rebounds. Junior Ella Robinson scored six points and added five rebounds.
Riggs and Brianna Dennis both finished with four points. Senior Laura Vincent had three points in the first period before leaving the game with an apparent knee injury. Her status is day-to-day. Raigan Cave finished with two points, while Annie Kiper and Jenna Nash both had one point to close out the scoring.
The JV squad put three players into double-figures in their 51-32 blowout win. Riggs led all scorers with 13 points, while Gracie Franklin had 12. Brianna Dennis finished with 10 points and led the team on the glass with seven rebounds.
Riley Stevenson just missed double figures with nine points. Briley Renfrow added four points, Kiper had two and Cave finished with one point to complete the scoring.
By Don Brown, Local Sports
Reach Don at donbrown@k105.com