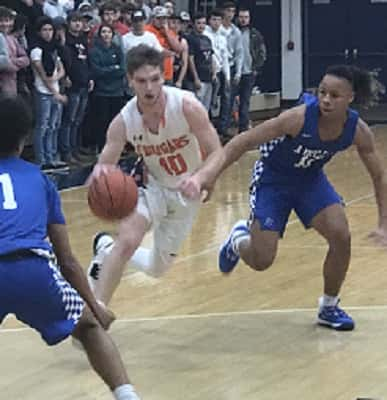 After opening up a nine-point lead near the start of the fourth quarter, the Cougars saw the visiting Apollo Eagles close the gap to just four points twice inside the last minute of play before senior Nolan Shartzer hit 8-of-10 free throws down the stretch to preserve the Cougars' 53-48 win over the Eagles in Tuesday's season opener at the Cougar Den.
Shartzer led all scorers in the game with 22 points and made it a double-double night by pulling down 11 rebounds. Sophomore Keegan Sharp and junior Jaxon Higdon joined Shartzer in double figures with 10 points each.
Grayson County never trailed in the game and was tied just once, at 2-2 at the 4:19 mark. They led by seven, 15-8 at the end of the first period, then increased the lead to nine points, 27-18 at the half.
When the Eagles opened up the third quarter by scoring the first five points, they had cut the lead to four points, 27-23 with 3:42 left to play. Higdon hit two three-pointers in the last 2:10 that fueled a 6-2 Cougar run that saw them take an eight-point lead, 33-25 at the start of the fourth quarter.
Hunter Tomes hit one-of-two at the line opening the fourth quarter to give the Cougar a nine-point advantage, 34-25. The Eagles responded with a 6-2 run to cut the lead to five points, 36-31 with 6:25 left in the game.
The Cougars came back with an 8-3 run that pushed the lead to 10 points, 44-34 with 1:50 left. Apollo then ran off a 7-1 run to cut the lead to four points, 45-41 with 58 seconds left. That's when Shartzer began his journey to the line in which he hit 8-of-10 to preserve the lead.
Freshman Brayden Childress scored six points on the night and Tomes closed out the scoring with five points and three boards.
Freshman Dillon Horn did not score in the game but made big contributions to the win by grabbing three rebounds, dishing out three assists and leading the team with five steals.
The JV squad lost its opener 46-39, getting 13 points from Jaxon Higdon and 10 from Chandler McCrady.
By Don Brown, Local Sports
Reach Don at donbrown@k105.com