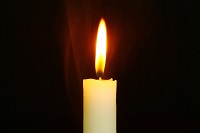 Irene Willis, age 85, of Leitchfield, KY, passed away Tuesday, (December 3, 2019) at Twin Lakes Regional Medical Center in Leitchfield, KY.
She was born on March 10, 1934 in Grayson County, the daughter of the late Gordon Avery and Eller Marie Allen Patterson.
She was a factory worker who enjoyed mowing with her push mower, growing her flowers and doing yard work. She loved researching genealogy. Irene had written books on several different families and their history. She loved her family. She was a member of Lilac Road Church of Christ.
She is survived by her son, David Willis of Leitchfield and several nieces and nephews.
Other than her parents, she was preceded in death by nine brothers and one sister.
Funeral services will be at 2:00 p.m. Saturday, (December 7, 2019) at the Dermitt Funeral Home in Leitchfield. Jim Berryman will be officiating. Burial will be in the Concord Cemetery.
Visitation will be at the Dermitt Funeral Home from 9:30 a.m. on Saturday until time of service.
The family prefers in lieu of flowers, for donations to be made to Concord Cemetery or Spurrier Cemetery in care of Gary Likins, Treasurer, 1292 Panther Creek Road, Falls of Rough, KY, 40119.
Online condolences can be made in the guestbook on our website at www.dermittfuneralhome.com.