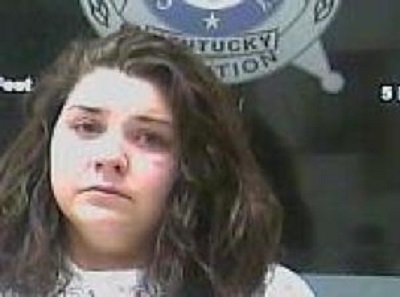 A Clark County woman has been jailed after pouring scalding hot chocolate on her foster child.
Ashley Neal, 33, of Winchester, was caught on surveillance video at a Winchester McDonald's pouring the hot chocolate, estimated to be about 150 degrees, directly on the head of a 10-month-old baby. The video also showed Neal, after pouring the liquid on the baby, pretend to nearly fall.
"From in store video, Mrs. Neal is seen walking with her 10-month-old foster child in a baby carrier held against her chest," the arrest citation states, according to the Winchester Sun. "She is seen pouring with her right hand on the baby's head, taking several more steps then attempts to fall, bracing herself with the same right hand."
The child was transported to a Cincinnati hospital for treatment of severe burns, Winchester police told media outlets. The baby was listed in serious condition.
Neal, who told police she did not remember the incident, was arrested and charged with first-degree criminal abuse and lodged in the Clark County Detention Center. She is no longer listed as an inmate.
By Ken Howlett, News Director
Contact Ken at ken@k105.com