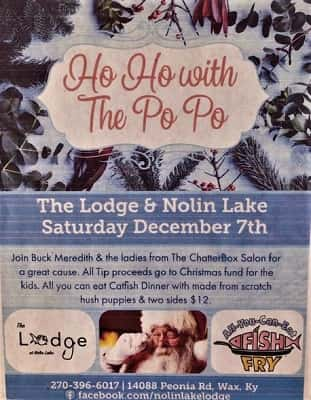 A fundraiser for the Clarkson Police Department's HoHo with the PoPo Christmas aid program will be held Saturday at The Lodge at Nolin Lake.
Clarkson Police Chief Buck Meredith and the staff of the Chatterbox Salon (and possibly others) will wait tables as the eatery will offer an all-you-can-eat catfish dinner, made from scratch sides and hush puppies for $12.
All tip proceeds go toward financing HoHo with the PoPo, which provides less fortunate children in the Clarkson area with Christmas presents. Proceeds from HoHo with the PoPo are also used throughout the year to help financially disadvantaged families.
The Lodge at Nolin Lake is located at 14088 Peonia Road. The restaurant is open until 7:00 p.m.
Blue Steel raises money for HoHo with the PoPo
Last month, members of the Kentucky Chapter of the Blue Steel Law Enforcement Motorcycle Club held an auto show to raise funds for HoHo with the PoPo.
Grayson County Constable Damon Lasley said that with only a few weeks to put together, Blue Steel organized a show that attracted auto enthusiasts from Indiana, Chicago, Illinois and Pennsylvania. In all there were 30 entries.
The event raised over $700 for HoHo with the PoPo.
Blue Steel participants said they are grateful for sponsorships for first place trophies by Tyler Cockriel, of Dan Powers GM Center, as well as AutoSmart. Additionally, Cockriel Dozer sponsored the second place trophy, with Grant's Auto Sales sponsoring the third place trophy.
According to organizers, Blue Steel plans to host more shows in the future in an effort to support local charities.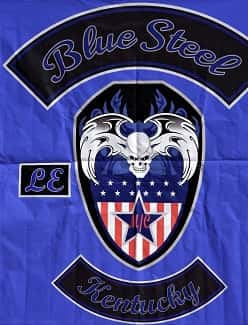 By Ken Howlett, News Director
Contact Ken at ken@k105.com