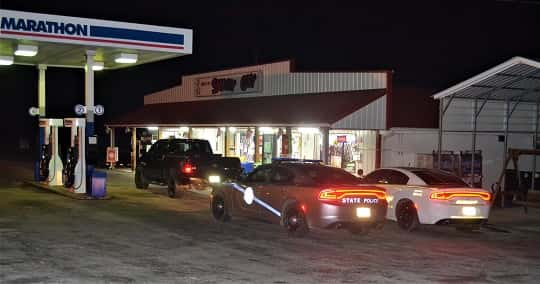 The Grayson County Sheriff's Office is asking for the public's help identifying the man who robbed Smitty City at gunpoint on Tuesday night.
Grayson County Sheriff's Norman Chaffins said, "The GCSO encourages anyone with information about this crime to contact the GCSO immediately at 270-259-3024, or your local law enforcement agency. Additionally, if you live in the area of Smitty City, and you have a camera pointing towards Hwy 259 (Anneta Road) or Hwy 226 (St. Anthony Road) that may have captured any vehicles passing through during the time of the robbery, please call the GCSO."
Chaffins added that if the information provided leads to an arrest and conviction of the perpetrator "you may be compensated with a monetary reward."
Smitty City is located at 7102 Anneta Road. Grayson County deputies Rick Mehlbauer and Sean Fentress responded to the robbery at 7:11 Tuesday night.
The male suspect, wearing all black and a black ski mask, entered the store armed with a handgun and demanding money. He then, unprovoked, assaulted the male clerk with the gun and fled the area in an unknown vehicle and in an unknown direction.
While injured, the man who was assaulted refused treatment or transport to the ER.
Kentucky State Trooper Joey Beasley assisted at the scene.
By Ken Howlett, News Director
Contact Ken at ken@k105.com