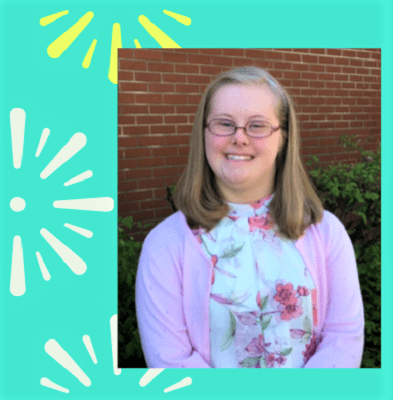 Emily Lush, the beautiful spirit who walks the halls of Grayson County High School (GCHS) and who positively impacts the lives of those lucky enough to know her, was recently the recipient of the Kentucky Council for Exceptional Children "Yes I Can" award.
The Council for Exceptional Children, a non-profit organization, "is a professional association of educators dedicated to advancing the success of children with exceptionalities," according to its website. Emily, a senior at GCHS, was bestowed the prestigious award at a ceremony on November 25 at the Galt House Hotel in Louisville.
Nominating Emily for this high honor was Monica Heavrin, Grayson County Schools Special Education/Preschool Director. In presenting Emily as the winner of the "Yes I Can" award at Thursday's Grayson Co. School Board meeting, Heavrin read the letter she submitted nominating Emily for the award. The letter reads as follows:
Emily Lush, an exceptional student and a ray of sunshine in the Grayson County School District brings all those who know her together with an adoration unmatched. A student with Down Syndrome, Emily receives services as a student with a functional disability. As with many students, the labels that students have don't represent the true picture of who they are and the capabilities which they hold.
I am nominating Emily Lush for the "Yes I Can" category of School and Community Activities.
She is a social girl that truly makes her school and her community a better place. Emily has sung with the chorus for several years. She is part of the Pep Club and helps with the recycling program at school. She is a familiar face and friend to many in the halls of Grayson County High School. Emily has a wonderful sense of humor and often jokes with her peers and teachers. She is double-jointed and loves to catch the reactions of people when she shows her "tricks."
In the spring, Emily was selected as Grayson County High School Homecoming Queen. What was remarkable about this to me wasn't that the students selected her as their queen, nor that she stood proudly as the anticipation built, nor even the sense of pride she shared when she called her family and friends from school to announce that she had been selected as a candidate. What truly was impressive was that five minutes before her crowning there was a crowd of two basketball rivals that had been yelling and acting foolish on behalf of their team (it was a close game and of the team's fans had been kind).
After the game, when the Homecoming Court was presented, Emily brought the two groups together, as there wasn't a dry eye when her name was called. The crowd cheering for the other team began chanting Emily's name as the crown was placed on her head.
Emily brings people together in a spectacular sense. She helps us through our differences, as we see past a disability and into the heart of the girl.
Outside of school, Emily is active in her church and is part of her church choir; she loves to perform. Emily takes piano lessons and has been part of a program which allows students with disabilities to ride horses therapeutically.
Emily was recently a Senator Page for the Kentucky General Assembly. She took this role very seriously and yet again made her hometown proud.
Finally, Emily also works two days a week at a local restaurant, Farmer's Feedmill, and is very hard working and determined employee. Her boss was so impressed that she has hired another student with a disability. The boy came to the interview saying, "I want to work like Emily."
Emily makes each of us want to be better. She makes Grayson County a better place just by being ours.
Emily's mother, Grayson County Middle School teacher Teresa Lush, said, "We've just had so many wonderful experiences. It's just a blessing to be in a small town where people know each other and love each other and want the best for them. Thank all of you."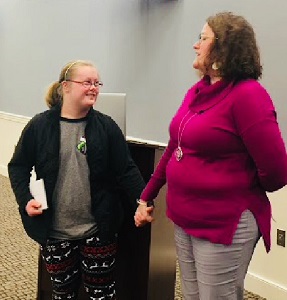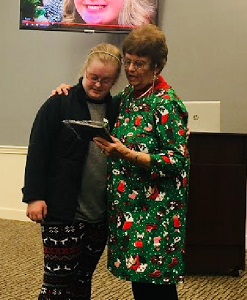 By Ken Howlett, News Director
Contact Ken at ken@k105.com