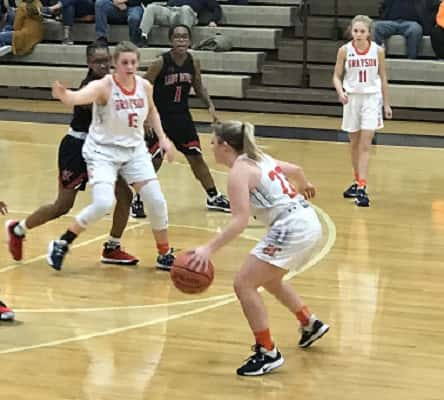 On a night when senior guard Kenzie Renfrow scored her 1,000th point as a Lady Cougar, her outstanding, triple-double performance led the Lady Cougars to a 57-40 victory over the Owensboro Lady Devils in the Cougar Den.
Renfrow led all scorers with 25 points, pulled down 14 rebounds, and pilfered 10 steals. She also dished out six assists on the night, coming close to a quadruple-double.
Renfrow came into the game needing just a single point to reach to 1,000 mark and she scored less than two minutes into the game and was fouled on the play.
ICYMI: Here was the moment that senior guard Kenzie Renfrow will never forget as she entered the 1,000 career point club. #GoLadyCougs pic.twitter.com/LHrMqb3yfb

— Cougar Sports on K105 (@K105sports) January 7, 2020
The Lady Cougars scored the first nine points of the game, but allowed the Lady Devils to get back into the game. They led 11-8 heading into the second period. Grayson County then closed out the second period on an 8-2 run to lead by 11 points, 29-18 at the half.
The Lady Cougars then outscored the Lady Devils 15-8 in the third period to lead by 18 points, 44-26 at the start of the fourth quarter. A Renfrow lay-in at the 6:54 mark of the final period gave the Lady Cougars their largest lead of the night, 21 points at 49-28, but the Lady Devils went on a 12-0 run to cut the lead to nine points, 49-40 with 3:21 left to play.
That would be as close as Owensboro would get though as the Lady Cougars scored the final eight points of the game to win going away.
Senior Bailey Snyder scored eight points and pulled down five rebounds for the Lady Cougars. Freshman Annie Kiper had a fine game, scoring seven points and pulling down eight rebounds.
Junior Ella Robinson added six points and three boards, while junior Rachael Snyder scored five points. Senior Jenna Nash added four points, and freshman Aryssa Riggs completed the scoring with two points.
The Lady Cougars improved to 10-4 with the victory and Owensboro fell to 4-9 with the loss.
By Don Brown, Local Sports
Reach Don at donbrown@k105.com