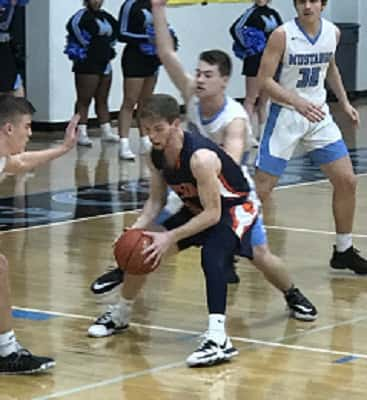 The Muhlenberg County Mustangs held the Cougars to just 28 points for the game on their way to a 28-point, 56-28 victory in Greenville on Tuesday.
The game was tied at 7-7 with 55 seconds left in the first period following a rebound basket by the Cougars' Nolan Hornbeck. The Mustangs answered with 11 unanswered points to take a lead they would not give back, 18-7 with 3:55 left in the second period.
The Mustangs outscored the Cougars 14-3 in the second period and led by 13 points, 23-10 at the half. They then outscored Grayson County 20-8 in the third quarter to lead by 25 points, 43-18 heading into the fourth quarter.
The Mustangs got scoring from 12 different players, led by Nash Divine's 14 points.
Sophomore Hunter Tomes led the Cougars with eight points. Keegan Sharp and Nolan Shartzer both finished with five points, while Dillon Horn had four. Michael Wood chipped in three points, and Hornbeck finished with two to complete the scoring.
By Don Brown, Local Sports
Reach Don at donbrown@k105.com